01.12.2021
What is trending in terms of window decoration in 2022?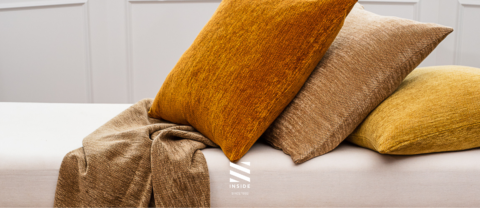 Is new window decoration also on your wish list for 2022? We've selected the 5 most important trends for you to definitely consider in the coming year. This way you are guaranteed to make the right choice when you shop for that new window decoration.
Trend 1: Wooden blinds

Wooden blinds are the ideal window decoration option if you want to bring more atmosphere into your home, regardless of which interior style you prefer. They provide a sense of calm and warmth along with natural light that you can adjust down to the millimetre.

Read more about the wooden blinds from Inside Blinds here.

Trend 2: Semi-sheer curtains

Semi-sheer curtains are ideal for those who want light to come in and still be able to see outside without passers-by being able to see everything going on inside. This type of curtain is transparent and translucent but they are made of a fuller fabric so that the view from outside is obstructed. The fuller fabric also means that they create a pleasant and cosy atmosphere in your interior.

Semi-sheer curtains are available at Inside in different colours and types of fabric. We will soon be launching three new collections: Otello, Boho and Mateo. Depending on the type of fabric, they offer more or less privacy. For more information, please contact your nearest Inside dealer.

Trend 3: Convenience and functionality

We increasingly want to be able to combine elegance with ease of use, also when it comes to window decoration. Electric curtains therefore only offer advantages. You can choose to operate them via your smartphone, a remote control or the home automation system. Wake up blissfully in the morning with a dash of sunlight when the curtains open automatically and enjoy optimal privacy in the evening when they close automatically.

Trend 4: Sustainable materials

Sustainability is central to the interior of the future. You can also extend this to window decoration. Inside Blinds is happy to support you in achieving this. For example, all our polyester curtains are made from R-pet (recycled polyester). In addition, our fabric supplier is only about twenty km away, which means that transport is kept to a minimum. We also work with sustainable wood of the highest quality for our wooden blinds.

By the way, did you know that at the end of 2021 we at Inside Blinds designed a new technology that contributes to the sustainability of your window decoration? It is now possible to have your new Inside window decoration treated with W.E.T. An exclusive, environmentally friendly protection that extends the life of your favourite window coverings.

Trend 5: neutrals, earthy colours and fresh tones

As in every year, 2022 will also feature neutral beige tones, which are ideal as a basic colour for your interior. Furthermore, earthy colours such as brown, red and terracotta will be strongly represented in the coming year. These colours create a warm atmosphere and bring nature into your home. And last but not least, we also see fresh blues and greens making their appearance in 2022. These include colours such as mint green, petrol blue and their many variations.

These trend colours can be discovered at our dealers in our beautiful fabric collections or, for those who would like to personalize their curtains themselves, soon also at CasaMia by Inside.


As you've read, the world of interiors and window decoration does not stand still. At Inside Blinds we are strongly focused on innovation and we like to respond to the trends. Discover all our beautiful fabrics and systems and see them up close at an exclusive Inside dealer. You can find your nearest distributor at https://www.insideblinds.com/nl/distributors.